Although I began my initial musical training on 1981 striving towards Rock Music performing, it wasn't until 1984 that I shifted the focus of my playing to Classical Music. The 180-degree musical turn dictated many changes. There were technical matters such as shifting from PICK playing (Rock) to FINGERNAIL plucking (Classical). Top Guitar Heroes such as
Alex Lifeson
of Rush (Rock) were replaced by
John Williams
,
Angel Romero
and
Manuel Barrueco
(Classical). I was instructed by Classical Guitarists Raúl Calderón (Puerto Rico) & Jorge Miller (Mexico) from 1984 to 1985.
ABOVE: (1986) Talking with the acclaimed Mexican conductor Eduardo Mata after a private recital
Photo courtesy of Magín Maseda & Joe Orr - taken at their home
(1987-VIDEO) Live TV Puerto Rico: Scarlatti Sonata (Guitar Duet)

During my years as a Classical Guitarist, I participated in Master Classes of Mde. Andrés Segovia, David Russell, Robert Guthrie, Ricardo Iznaola and the Uruguayan composer, Guido Santórsola.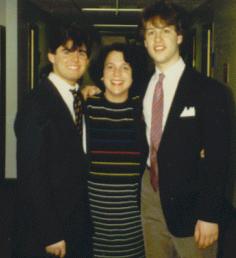 ABOVE: After a recital at GWU with Prof. Sislen and Pianist David Saliamonas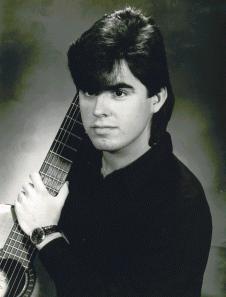 ABOVE: 1989 Portrait Photo
From 1988 to 1990, I performed in private recitals for Henry Kissinger, David Rockefeller, Lord Carrington, Sir Yue-Kong Pao, Donald Petersen and the then President of the Republic of Panamá, Guillermo Endara. These notable individuals where distinguised guests of the Chase Manhattan Bank's Advisory Committee, who contracted me for these performances.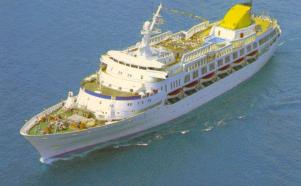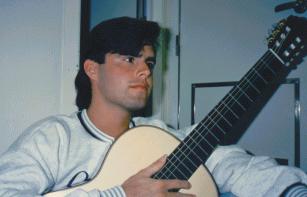 ABOVE: (1990) Performances on-the-sea in South America
During several months of 1990, I performed aboard the Ocean Princess throughout Uruguay, Argentina and Brazil - a wonderful experience indeed! Later in 1990, I performed at the Metropolitan Museum of Art.
In 1991, I offered my recital of graduation at MSM, featuring the New York premiere of a new work entitled "Tres Piezas", by Mexican composer, Jorge Ritter. The acclaimed pianist from Canarias,
Gustavo Díaz-Jeréz
, accompanied me during a reading of
Rodrigo's
Fantasía Para Un Gentilhombre.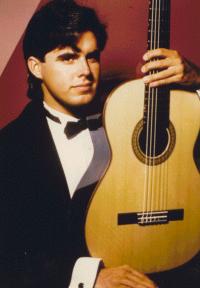 ABOVE: 1991 Portrait Photo by Roger Prigent (NYC)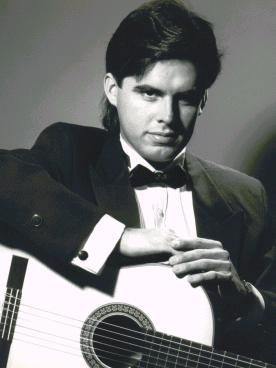 ABOVE: 1991 Portrait Photo by Roger Prigent (NYC)
On November 1991, I performed my formal debut recital at the Seventh International Guitar Festival held in San Juan, Puerto Rico. The event was warmly received.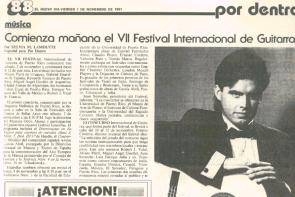 ABOVE: Newspaper article announcing the recital.
My final major recital took place in January 1992 at the Spanish Institute and was also critically acclaimed. For the next couple of years, I continued performing occassional recitals while teaching guitar to the fine students of the Sunset Park School of Music in New York.
The next stop on this snapshot of my achievements from days gone, took place in Wall Street, where the Personal Computer became the instrument and FoxPro the voice...
Oh, well - this guitar business was at lot of fun while it lasted and, yes, Hunger and Ambition are strong motivating forces!
Besides, Who would want to read about a guy sitting in front of the computer, day-in-day-out until dead, blind or both?
---
Quotes:
"Impressive physical dexterity... Tamayo is a gifted guitarist" - Robert Guthrie, Southern Methodist University (1986)

"I have heard Kenneth Tamayo play, and I find him talented, musical, and deeply committed..." - Eduardo Mata, Dallas Symphony Orchestra (1987)

"Tamayo's Labor of Love" - Gordon Sparber, The Washington Post (1988)

"Kenneth Tamayo offered a brilliant recital at the Seventh International Guitar Festival" - Ernesto Cordero, Composer (1991)

"His is a rare talent and indeed may develop into one of the great guitarists of our times" - Nicholas Goluses, MSM Facutly (1992)
---
Contact me at: mail@kennethtamayo.com